GCP Training In Hyderabad
100% Placement Assistance
GCP Training Online Batch Details
GCP Course Curriculum - Online classes
Key Features Of GCP Training in Hyderabad
About GCP Training in Hyderabad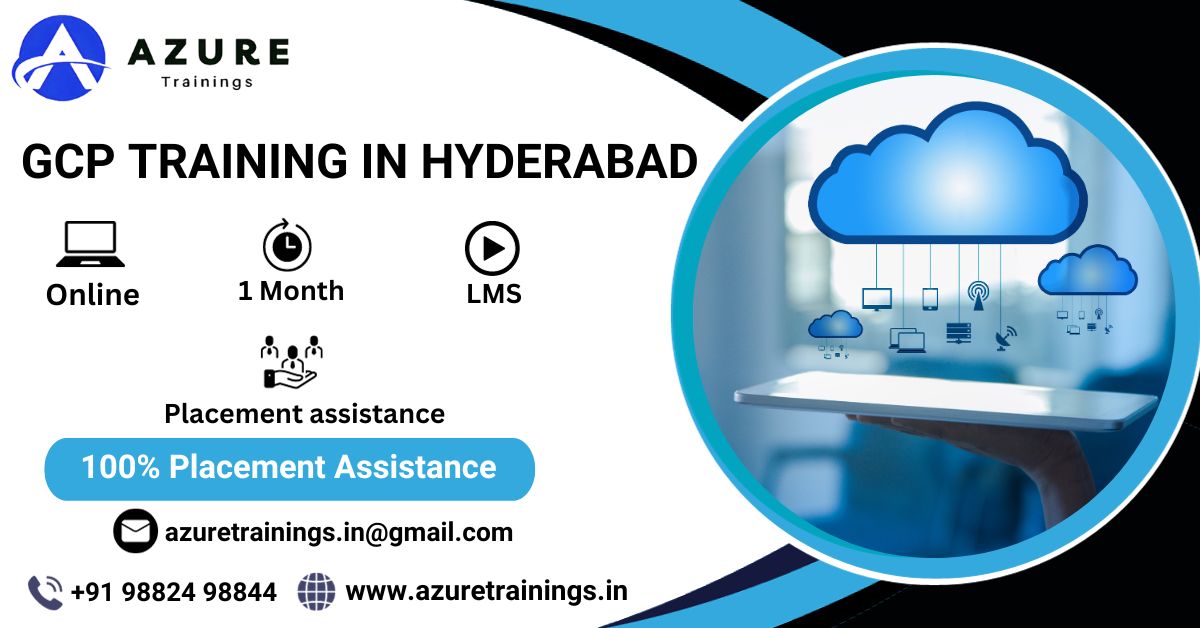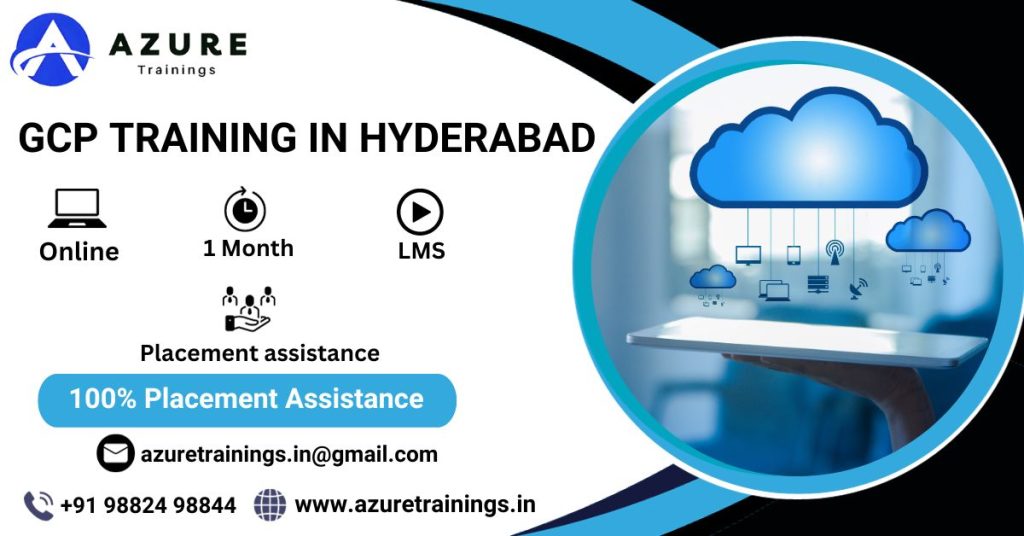 GCP stands for (Google Cloud Platform) is a suite of cloud computing services from Google. It provides a wide range of cloud computing services classified into distinct domains, including computing, networking, storage, cloud machine learning, big data, identity and security, among others.
GCP training in Hyderabad provides by Azure Training equips individuals with a thorough understanding and the necessary skills to efficiently leverage the Google Cloud Platform (GCP) in diverse cloud computing roles.
The study covers infrastructure deployment, data processing, machine learning applications and development. Our course syllabus includes topics such as – 
Introduction to Cloud Computing 

Overview of Virtual Machines, Autoscaling

The basic architecture of cloud computing

Load Balancing and Virtual Network

Identity and Access Management

Compute Engine

Google Cloud Storage

Networking Basics etc.
We conducted the GCP training program in bith online and offline training mode for students and working professionals. 
After successfully completing our GCP training program, we offer placement assistance, and mock interviews to boost your knowledge and confidence that will help you to crack any kind of complicated interview.
Enroll in Azure Trainings for the Best GCP training in Hyderabad and build a lucrative career. 
Why Choose our GCP Training In Hyderabad Program?
What do students say about our GCP Training In Hyderabad
My trainer was very knowledgeable and helped me a lot to clear my doubts and very nice classes provided on GCP Training in Hyderabad with theory and practicality. They also offer placement assistance program.
I have completed the GCP certification program, from Azure Training in Hyderabad with an affordable course fee. There way of teaching was very interesting with an immense amount of practical knowledge. My GCP concepts were very clear after joining the training program.
Excellent training provided by Azure Training in GCP Training in Hyderabad. The training covered all the required aspects of GCP advanced topics in-depth. Thank you team for providing the best GCP course in Hyderabad.
High-quality training with placement assistance by Azure Training in GCP training in Hyderabad. My trainer was very supportive during the entire training period and provided the best training. The training method was so good that helped me a lot to go through many interviews and guided me to make my resume. Really liked the interactive training sessions conducted by the trainer.
The GCP course syllabus provided by the institute was very subjective, up-to-date and easy to understand and covered all the advanced topics. Best GCP Training in Hyderabad From Azure Training.
The GCP course curriculum is well organized and the team is also cooperative with the students in arranging classes for topics that are missed. The session was very interactive and very productive with hands-on practical assignments. They have provided all the course essentials and the complete knowledge which is required to work with GCP.
Certification in GCP details
By enrolling in this GCP Training, you will receive access to real-world industry scenarios and projects that are directly tied to your success. Upon the successful completion of the training program students will be received an GCP course completion certificate from Azure training. 
There are various Google Cloud Platform certifications are available – 
Google Cloud foundational-level certifications

Google Cloud associate-level certifications

Google Cloud professional certifications
Who Should Learn GCP Course?
Advantages of Learning GCP course
Approximate Payscale in the field of GCP
Completion of the GCP course you will learn
Prerequisites to Learn GCP
GCP Frequently Asked Questions;