Azure Data Factory Training In Hyderabad
100% Placement Assistance
Azure Data Factory Training In Hyderabad - Online Classes
Azure Data Factory (ADF) Curriculum
Most Advanced ADF Training Program in India
Total: 151 Sessions of Video Lectures on
Azure Data Factory Training By Mr. Bharat Sreeram Sir
Key points of Azure Data Factory Training In Hyderabad
Azure Data Factory Training In Hyderabad & Video course
Why choose our Azure Data Factory Training program?
With our Azure Data Factory Training Online course, you will gain valuable hands-on skills and competence. Here's why you should choose us :
The most common job roles in Azure Data Factory include:
Skills you will gain from our Azure Data Factory Training in Hyderabad
What do students say about Azure Data Factory Training In Hyderabad
Kalyan sir is the best ADF trainer in Hyderabad and Institute offer quality azure data factory training in Hyderabad. I really enjoyed the online classes and I am happy to be a part of this great training. I am really impressed by the quality and content of there tutorial.
Kalyan sir is extremely helpful and kind. He has provided professional guidance and knowledge to us by helping us in every step of the way and we are extremely grateful for his training! I would definitely recommend AzureTrainings to anyone who is looking to learn Azure data factory training in Hyderabad.
AzureTrainings is one of the best training institutes in Hyderabad for ADF. I really enjoyed the video courses; they were not only informative but also very engaging to watch. I found the training content very useful and the trainer, Kalyan sir, was very friendly and easy to approach, he always made sure everyone understood what was being taught.
The ADF online classes were super fun and interesting unlike the other training institutes. I enjoyed the quizzes and interactions with our tutor, he was really cordial. The classes were very interactive and I was able to ask questions when I needed help. The material was easy to understand and the assignments helped me practice what I learned in class.
The ADF course was good and worth the money. It was a great learning experience for me. I am so glad I chose Azure Data Factory for my online training. The course was easy to understand and the tutors were very helpful. They were always there to answer questions and provided feedback on our assignments.
I learned a lot from my experience at AzureTrainings. The trainer was knowledgeable and used good examples to explain the concepts of Azure Data Factory to us, which made it easier for us all to understand. He also gave each student extra materials that we could use later for our own projects in this field!
Azure Data Factory Training In Hyderabad is one of the Best institutes I have seen. The video courses are very helpful, and Kalyan sir's classes were always enjoyable as he made sure we understood all aspects of our work.
AzureTrainings is a great place for anyone who wants to learn about Azure and get certified. Kalyan sir is a Azure Data Factory great trainer and makes sure that everyone understands the concepts before moving onto the next one. He also ensures that all our doubts are cleared before we leave class.
The course material was always up-to-date, and we were given the latest updates on Azure every week. The trainer, Mr.Kalyan was very friendly and supportive throughout my time at AzureTrainings. The hands-on training was very helpful, and the instructor gave me detailed explanations of all concepts. The trainer is very knowledgeable about Azure and explained things well.
I want to let you know that the Azure data factory training I attended at azure training was really a great experience. The instructor, Kalyan sir, was amazing. I thought the explanations were easy to understand and it made the learning experience feel better. I am happy to share that I also got a place in a top company with a good salary package. The support team was also really helpful and I appreciate their assistance throughout the process.
The Kalyan sir has great knowledge on the subject. The explanation was excellent and I thoroughly enjoyed the sessions. Would recommend the likith sir and Thank you for the amazing training and support from azure trainings !
The trainer Kalyan Sir's training was a great experience. The class was Very interactive and I learned so many things from the trainer. He helped me from the back end very much. Now I got placed in a very good company with a better package. I would suggest you join Azure training
I would like to thank you for the helpful guidance provided by Kalyan sir. I am happy with my trainer who is very efficient and shared his knowledge and had a great learning experience. I really felt good doing this course, it gave me a world of knowledge.I look forward to recommending you to everyone. Thank you for all the assistance and feedback, it has been delightful and very gratifying.
The good response every time and good assistance in placement and training. It's a great place for learning skills and grabbing opportunities.i feel gratitude for learning from Kalyan sir, he was very supportive and helped me anytime other than class timings.i suggest to everyone to learn from azure trainings.
The faculty here motivates the students to build confidence and enables us to gain good communication skills as well as technical skills. Kalyan Sir's way of teaching is excellent and he started explaining concepts from zero to Advance. I highly recommend Azure trainings is the best place to learn.
The topics were delivered in a very understandable way and we can easily get the topic.The knowledge given by the Kalyan sir is very helpful to me and it was a good experience with a trainer and teaching skills. Interacting and answering every question asked by students solve thoughts related to the topic. My experience at this Azure trainings institute was really great.
It was an awesome experience attending ADF training in azure trainings. My overall experience was Excellent. I am very happy to choose this institute for my training. My trainer Kalyan Sir has a unique style of teaching, everyone will understand the concepts very easily. The institute staff are also very friendly, they also provide the Recordings of the sessions on the same day.I would like to recommend this institute for learning ADF for newcomers and experienced candidates. Thank you!
I took up a course on ADF in Azure trainings. It was handled by Mr. Kalyan .The teaching was very good, all the doubts were cleared. He is an Excellent Teacher, he explains all the concepts with Demos/ practical sessions only, because of this reason we easily understand the concepts, it helps a lot during our practice time. He will clarify all the queries in a smooth and polite way.
About Azure Data Factory Training in Hyderabad (ADF)
Azure data factory (ADF) is a cloud-based ETL and Data Integration service created by Azure. It eases the path for an intuitive authoring experience, fully automating management tasks such as monitoring. Adf allows you to schedule and time the workflow according to your preferences. 
We provide the most comprehensive Microsoft ADF training in Hyderabad, with a conceptual curriculum and hands-on exercises that prepare students for real-world applications.
We train our students by giving them practical experience and knowledge so that learning will be more effective. The Azure Data Factory Training In Hyderabad course provides comprehensive and in-depth coverage of Microsoft Azure Data Factory.
The course will cover the following topics: Introduction to Azure Data Factory, Overview of Azure Data Factory, Architecture Creating an Azure Data Factory Training in Hyderabad, and Creating a data pipeline using Azure Resource, Manager Templates Using PowerShell for configuration and management, Monitoring your pipelines Troubleshooting Errors. 
Azure Data Factory Trainings is a subsidiary of Brolly Academy and aims to provide individualized Azure Data Factory Training in Hyderabad . We also certify students who complete the course. The certificate is suitable for beginners and more advanced learners and can be used to prove your competence in a CV or job application. Our instructor-led Azure Data Factory Training in Hyderabad will prepare you for the Azure certifications by imparting the necessary knowledge and skills to pass the exams. 
You can also opt for self-paced video tutorial courses, where you learn at your own pace and don't have to worry about deadlines or exam dates. The course material is available online and on mobile devices with an app version of the course. 
Our training institute has the best ADF trainer in India, whose experience working with multiple organizations and companies across the country makes him well suited to coach our trainees and students. 
We at AzureTrainings, conduct our classes at a level of quality that other institutes unmatch. Batch sizes are kept small to ensure each student's best possible training experience. Join our training program and learn from the best trainers, with dedicated placement opportunities in some of Hyderabad's top companies.
Our Azure Data Factory Course (adf course) Includes:
Mr. Kalyan will be your Adf trainer and will be leading you through the entire process of the Azure Data Factory training program. He is a veteran in Azure and holds an excellent track record of training students to become experts in Azure. He has trained over 30,000+ students in the past few years with 8+ years of competent experience. 
His passion for technology and teaching makes him even more inspiring to learn from, as he is one of the most sought-after trainers in Hyderabad with an impressive reputation. His expertise in Azure is unparalleled, and his teaching style makes it easy to understand even the most complex concepts. 
He is well versed with the latest technologies, tools, and trends in the industry. Moreover, he has worked with some of the top companies and institutions in Hyderabad as a lead Adf trainer and has a vast experience in training and developing students. He is an excellent trainer, has a deep understanding of technology with patience, and takes extra effort to explain each topic in detail, ensuring that the student enjoys a satisfactory quality learning experience. 
He ensures that every student gets adequate attention and time during the training sessions. His experience as a consultant helps him understand what students need to learn to become successful professionals in their careers. His approach to teaching is convenient and has helped many students pass their certification exams. He has also delivered training in Data Science, MLops, Azure DevOps, and more. 
Get Certified With Azure Data Factory Course Certification
The Azure Data factory certification program is designed to provide a credential that professionals can use to demonstrate technical skills and knowledge in Azure Data Factory. ADF Certification training provides a comprehensive overview of Data Factory, including its architecture and components. 
It also provides an introductory level of skills in Azure Data Factory, which will help professionals to use the tool effectively. Our trainer, Mr. Kalyan, will train you with all the concepts in ADF by giving you ample knowledge of the course subjects. He will also guide you on using the software and all its features with his competent 25+ years of experience in the field. 
Upon completing the course duration with our expert guidance, you will also be able to attend the ADF certification exams and get yourself certified. 
Azure Data Factory certifications
The Azure Data Factory certification program currently offers four different certifications: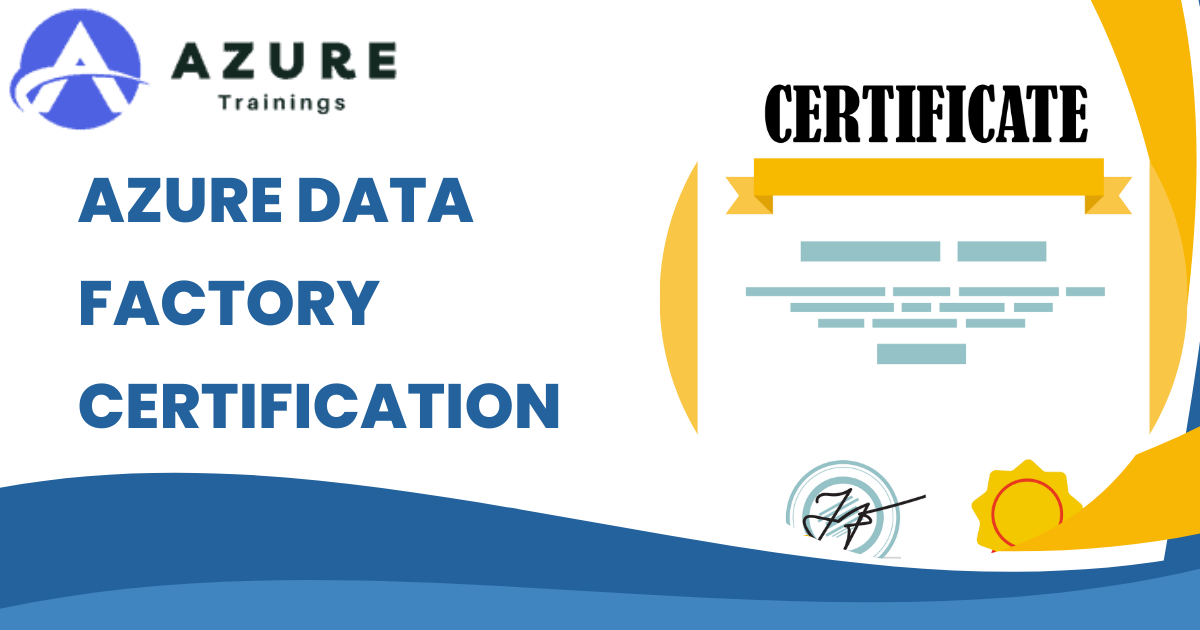 The Azure Data Factory Certified Professional certification is the entry-level certification for Azure Data Factory. It's designed to validate your knowledge of the basics of Microsoft Azure Data Factory and its associated tools, including Azure SQL Database and HDInsight.

The second level is the Architect certification. This credential validates your ability to design, develop and deploy an enterprise-level solution.

The third level is the Administrator certification, which validates your ability to manage and troubleshoot a data factory environment.

 Finally, the Data Factory Consultant certification validates your ability to design and implement an Azure Data Factory solution for an enterprise.
About Azure Data Factory Training institute in Hyderabad - Online Classes
Azure Data Factory Trainings is one of the best Azure Data Factory Training in Hyderabad, Ameerpet with industry experts trainers. We have been training in Azure over the past 3 years and have successfully trained 800+ students across Hyderabad and Telangana. 
We provide Azure placement assistance along with Azure certification and support. Enroll yourself in our Azure Data Factory Training program to gain our e-book and the right skill set to make it in the IT industry.
Benefits of this Azure Data Factory (adf) Training Program
AzureTrainings offers comprehensive, hands-on Azure Data Factory training in Hyderabad that will prepare you for success with ADF's technical and advanced concepts. We offer a full range of ADF Training in Hyderabad services, including an industry-aligned curriculum that will qualify you for Microsoft Azure Data Factory careers.
 Azure Trainings is the most convenient way to learn Azure Data Factory. Moreover, we offer flexible scheduling options, including weekdays and weekend classes. 
You will be able to create a data pipeline that processes data from various sources and stores it in a destination database.

You will be able to use Azure Data Factory to schedule and monitor your data pipelines.

You will be able to manage the security of your Data Factory account using Azure Active Directory.

You will be able to use Azure Data Factory to move data between on-premises and cloud environments.

You will be able to test your data pipelines using the Azure Data Factory designer.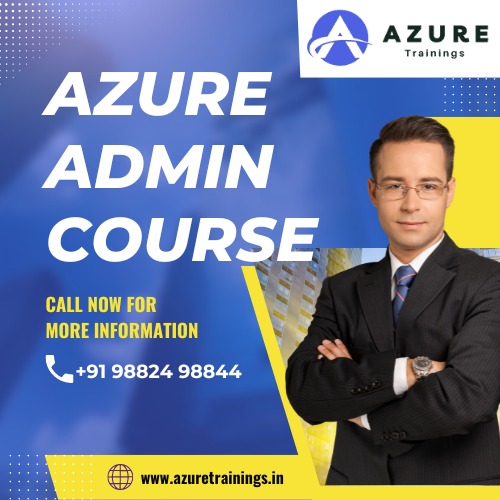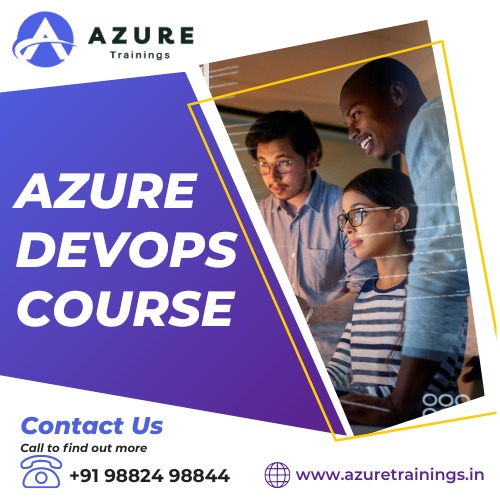 Frequently Asked Questions